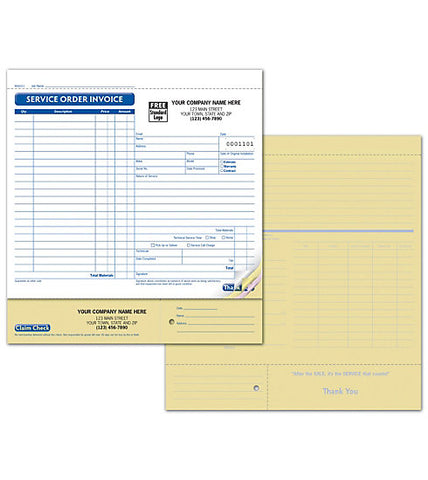 Our best-selling manual service orders instantly double as invoices! Detachable customer claim checks & ID tags make this service order perfect for organizing your daily repair jobs.
Personalize for free: Includes your business imprint plus choice of typeface & standard business logo.
Create clean records: Carbonless forms stay tightly aligned for clear, clean copies.
Get the details: 24 lines to documents big jobs, with plenty of preprinted areas & handy checkboxes.
Durable: Last part is sturdy manila tag; serving as an account payment record.
Track customer acceptance: Signature line for customer authorization prevents disputes.
Get noticed: Additional customization options include imprinting your custom logo.
Stay organized: Plastic covered wire fasteners included.
Size: 8 1/2 x 9 1/4"
LARGE SERVICE ORDER - Item RHS0311
Free Shipping
Personalized: Logo, company name, address & phone number
---
---
Popular Items:
---
We Also Recommend