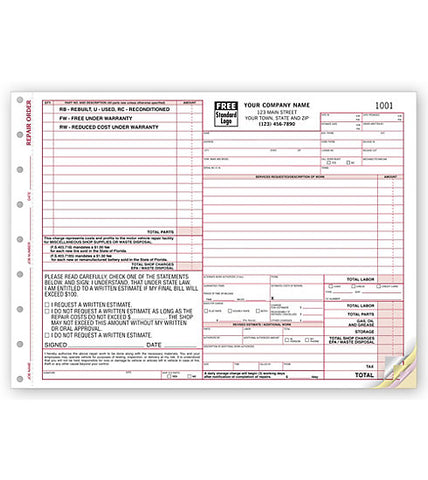 Comply with Florida law while keeping track of the whole repair job! Preprinted forms make it easy to keep an accurate record of labor, parts, service, accessories and more.
Consecutive numbering available. These forms come with the option to have consecutive numbering printed on them.
Generous description area! Lots of room to detail services performed and materials used.
Upgrades. Additional customization options include imprinting your custom logo.
Handy checkboxes. Check boxes require customer to select whether they want an estimate. Signature line below ensures there are no misunderstandings.
FL State Repair Order #6585
Free Shipping
Personalized: Logo, company name, address & phone number
---
---
Popular Items:
---
We Also Recommend